SCHEU BIOSTAR®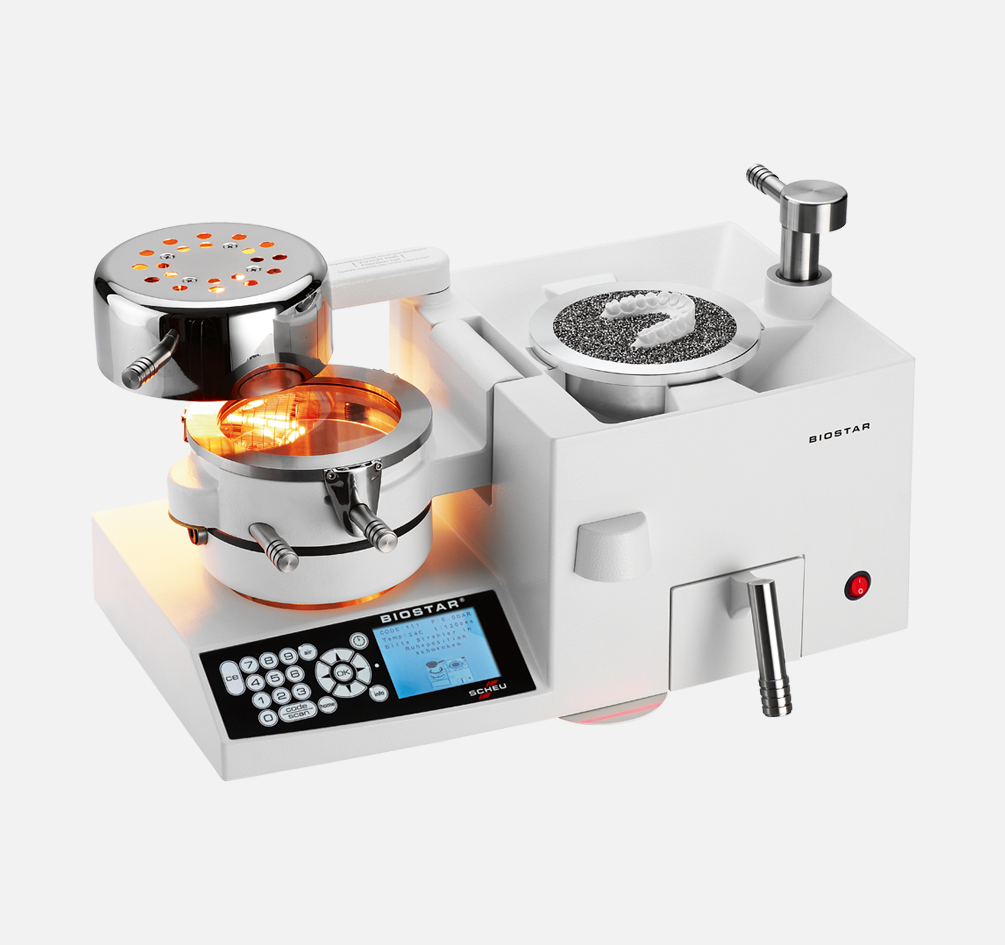 The no.1 choice in pressure moulding technology now offers even higher performance and fast, precision results.
This is a versatile pressure moulding machine with many applications in dental pressure moulding and orthodontics. The revolutionary new BIOSTAR®, together with an extensive range of materials and accessories, offers maximum efficiency and results.
Large LCD colour display
Smart, in-built data bank which identifies scanned material for optimum results
Application guides and animated videos to assist fabrication
Enlarged model cup and a USB port
Patented thermostatic heater control
6 bar working pressure
Working temperature reached in 1 second
The new BIOSTAR® utilises the same proven principles as previous generations of positive pressure moulding machines. The side of the material which is placed directly over the model is heated. The surface temperature of this side of the material is up to 60° C higher, and thanks to the superior working principle of 6 bar positive pressure absolutely precise moulds are guaranteed, using very thin foils as well as plates up to a thickness of 4-5 mm.
The short-wave, thermostatically-controlled infrared heater reaches working temperature within 1 second without waiting time. Immediately after setting the code the infrared heater reaches the working temperature and the foils can be plastified. With the BIOSTAR, the pressure moulding process is complete before many other machines even reach working temperature. The result is perfectly heated material and reproducable moulds every time.
The ergonomically formed pellet receiver provides complete control for precise embedding and covering of the models. Excess pellets automatically fall into the channel surrounding the cup and can be used again immediately.
Innovative scanner technology records all important data such as temperature, heating- and cooling time from the barcode, which is printed on each single SCHEU-foil. The data and the processing are shown on the display.
Each single foil is coded to prevent mixing up of materials.
Key data
Power: 230 V, 850 W
Working pressure: 0.5 – 6.0 bar
Measurements (W x H x L): 450 x 230 x 260 mm
Weight: 14 kg
Every Biostar® comes with a 3 year warranty and extensive after-sales support, including access to training and workshops to ensure you get the best out of your purchase.